Int'l Student Lounge
Greetings
Dear International Students,

International Student Lounge (ISL) would like to welcome you to Inha University. We invite you to join our diverse international community and enjoy our elaborate activities.

The main objective of ISL is to bring international students together and to help the new incoming students by providing them with guidance and assistance in each and every step towards joining Inha. We are here to help you in every issue related to study and stay in Inha University and hence make your life easier and comfortable.

All programs and services will be designed to meet the needs of entering international students, currently enrolled international students. The ISL advocates on behalf of international students and scholars and provides programs that help them adjust to a new university, community, country and culture.

In future, the ISL will become a leader in meeting the established and potential needs of a growing and increasingly diverse international population, and will provide examples of best practices to the International education community. Thank you for your cooperation.
What we do
Opening Hours
10:00 ~ 17:00 (Lunch 12:00~13:00)
Monday through Friday (during the semester)
Location
Student Center 5th floor , office No.504
We have
Computers (Internet Connected)
English Newspapers & Magazines
Travel Information (Free map of Incheon & Seoul, etc)
Photocopy Machine (Free up to 5 pgs)
Nice Tables & Comfortable Chairs
A Cozy Couch
We offer
Language Tutoring
And a variety of events
* Feel free to come and see what we're doing. We're here to help.
ISL Supporters
Role
Offering help for foreign students regarding academic affairs and campus lif
Offering various cultural activities and events for foreign students
Activities
Staying in International Student Lounge for helping foreign students and office space management
Assisting the freshmen during Welcome Week
Assisting cultural activities and events
Settling foreign students' complaints (course registration, academic affairs, etc.)
ISL Supporters
ISL Supporters

| No. | Name | Department | Year |
| --- | --- | --- | --- |
| 1 | 김나영 (KIM NAYOUNG) | Business Administration | 2 |
| 2 | 김예림 (KIM YERIM) | Nursing | 3 |
| 3 | 문혜준 (MOON HAEJUN) | Theater and Film Studies | 3 |
| 4 | 원동연 (WON DONGYEON) | Polymer Science & Engineering | 3 |
| 5 | 이가영 (LEE GAYOUNG) | International Trade | 3 |
| 6 | 임민주 (LEEM MINJU) | Japanese Language and Culture | 3 |
| 7 | 임하나 (IM HANA) | Computer Engineering | 3 |
| 8 | 자보흐리 (KOZIEV JAVOKHIR) | International School of Global Studies | 2 |
| 9 | 장형과 (ZHANG XINGE) | Asia Pacific School of Logistics | 3 |
| 10 | 조오은 (CHO OHEUN) | Asia Pacific School of Logistics | 2 |
| 11 | 조은상 (CHO EUNSANG) | Asia Pacific School of Logistics | 2 |
| 12 | 주마굴 (NATSAGDORJ ZUV UILST) | Industrial Engineering | 1 |
| 13 | 최승연 (CHOI SEUNGYEON) | Asia Pacific School of Logistics | 3 |
| 14 | 최진영 (CHOE JINYEONG) | Electronic Engineering | 3 |
| 15 | 허유림 (HEO YULIM) | Cultural Contents & Management | 2 |
ISL Activities
ISL Activities

| No. | Program | Date / Venue |
| --- | --- | --- |
| 1 | Campus Tour(English, Chinese) | Aug. 31(Fri) 11:00, 15:00 |
| 2 | Survival Korean for Exchange Students | Sep. 11(Tue) ~ Sep. 20(Thu) Every Tue/Wed/Thu 17:00 ~ 18:30 |
| 3 | Volunteering for Multicultural Workshop | Sep. ~ Nov. |
| 4 | Language Tutoring | Sep. ~ Nov. |
| 5 | Korean Culture ExperienceⅠ: Hanbok | Sep. 21 (Fri) 14:00 ~ 16:00/ I.S.L |
| 6 | Korean Culture ExperienceⅡ : Making Traditional Food | Sep. 28 (Fri) 13:00 ~ 18:00/ Outside of Campus |
| 7 | Korean Culture ExperienceⅢ : Gwangmyeong Cave | Oct. 12(Fri) 13:00 ~ 18:00/ Outside of Campus |
| 8 | Korean Culture ExperienceⅣ : Traditional Craft | Nov. 9(Fri) 13:00~ 18:00/ Outside of Campus |
| 9 | Korean Culture ExperienceⅤ : A Visit to Enterprises | Nov. 23(Fri) 13:00~ 18:00/ Outside of Campus |
| 10 | Farewell Party | Dec. 14 (Fri) 14:00 ~ 17:00 / I.S.L |
Facilities for International Students
International Student Lounge

Use : Cultural activities and rest for international students
Location : #504, 5th floor, Student Center
Opening Hours
· Open: Mon-Fri 10:00-17:00 during the semester
· Close: holidays and weekends
Prayer Room(Meditation Room)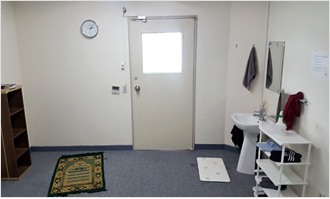 Use : Prayer room
Location : #506, 5th floor, Student Center
Opening Hours
· Open: Mon-Fri 09:00-18:00 during the semester, 09:00~17:00 during the vacation
· Close: holidays and weekends